The FIDE Commission for Women's Chess is proud to announce an upcoming event for Women and Girls. The All4chess & Chess4All: Toronto Chess Festival For Women & Girls will be hosted at Hart House on Sunday, May 14th. The event is organized by The Hart House Chess Club, supported by the Canadian Chess Federation, Ontario Chess Association, and the FIDE Commission for Women's Chess.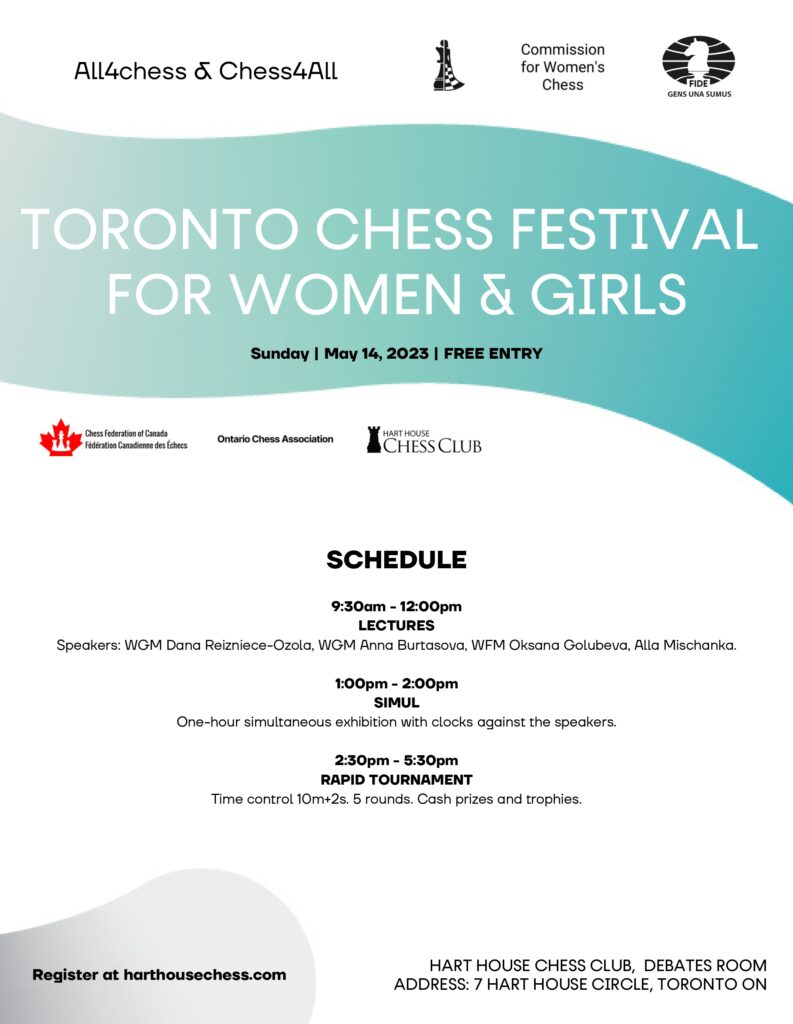 ---
FORMAT AND LOGISTICS
Where: Debates Room, Hart House, University of Toronto. 7 Hart House Circle, Toronto, ON M5S 3H3
When: Sunday, May 14, 2023 from 9:30 am – 5:30 pm
Format: 3 events: Lectures, Simultaneous Exhibition, Rapid Tournament
Lunch: provided for all attendees
Cost: free (event is fully financial supported)
Eligibility: only open to Women and Girls
Registration: via email with: name of attendee, dietary restrictions (lunch provided), note if any events will be skipped (lectures, simul, rapid tournament), CFC ID, email address
Organizer: Hart House Chess Club
Email: hhchess@studentorg.utoronto.ca
CFC: unrated
Equipment: Chess sets and clocks supplied
---
SCHEDULE
Lectures: 9:30 am – 12:00 pm

Speakers: WGM Dana Reizniece-Ozola, WGM Anna Burtasova, WFM Oksana Golubeva, Alla Mischanka

Lunch: 12:00 pm – 1 pm

Lunch provided for all guest

Simultaneous Exhibition: 1:00 pm – 2:00 pm

Simul with clocks against speakers

Rapid Tournament: 5 round, 10 minute + 2 seconds. Cash prizes and trophies.
Participants are requested to check-in will outside the Debates Room for all events.