On Sunday, May 14th, Toronto became the centre of the female chess movement. The All4chess & Chess4All: Toronto Chess Festival for Women & Girls, which took place at the Hart House Chess Club of the University of Toronto, brought together more than 60 participants.
The one-day free-to-attend event came to life thanks to the joint effort of the FIDE Commission for Women's Chess, Chess Federation of Canada, Ontario Chess Association, and Hart House Chess Club. Deputy Chair of the FIDE Management Board, WGM Dana Reizniece-Ozola, was the Festival's special guest. It was her first visit to Canada's largest city.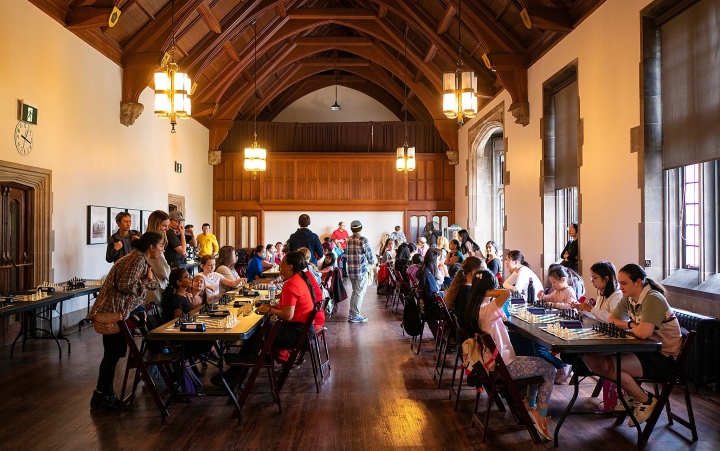 The day was packed with activities. The morning started with inspiring and instructive lectures by WGM Anna Burtasova, who spoke about the first Women's World Champion Vera Menchik, WGM Dana Reizniece-Ozola, "How to Win the Game: a Secret to a Smart Game", and WFM Oksana Golubeva who demonstrated impressive tactical strikes from the games of top women players.
In addition, Ala Mischanka told the audience about FIDE's "INFINITE Chess" project for children with ASD amid the plans to launch it in Canada. Soon we will publish the recording of the speeches on the FIDE YouTube channel.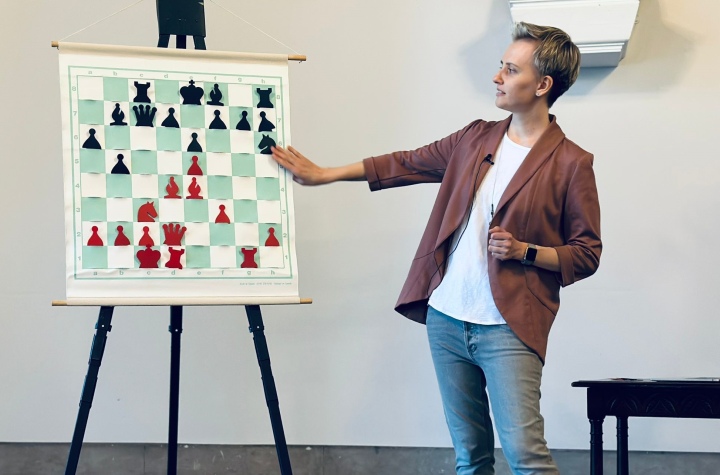 After a lunch break with free pizza for all attendants, the next item on the menu was a simultaneous exhibition by WGM Dana Reizniece-Ozola, WGM Anna Burtasova, and WFM Cindy Qiao.
The simuls warmed everyone up for the afternoon rapid tournament. Played over the six rounds, it had numerous prizes in age and rating categories. Fifty-four players played hundreds of games and only a handful ended in draws.
WGM Dana Reizniece-Ozola showed her class by sweeping the rapid event by a perfect 6 out of 6, followed by the group of players who shared for second with 5/6. The tiebreak criteria put WGM Anna Burtasova in second place and WFM Oksana Golubeva in third.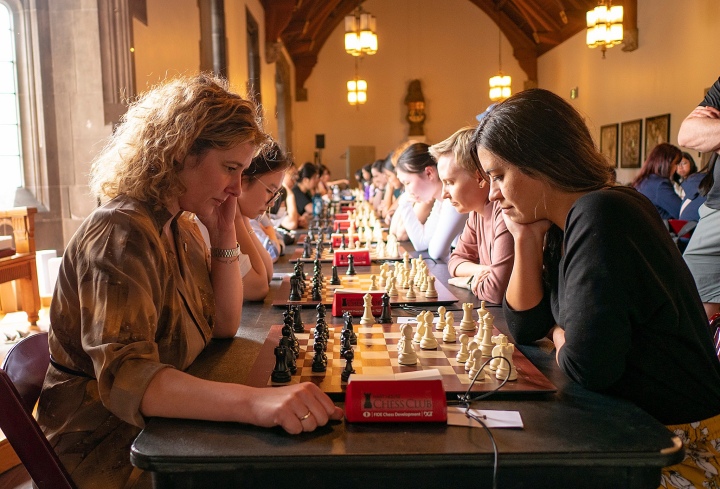 Our congratulations to all winners in the categories!
Trophy for the best player from the University of Toronto: WFM Cindy Qiao (5/6)
Top U9 Trophy: Chloe Huang (4/6)
Top U12 Trophy: Laksshana Deepak (4/6)
Top U15 Trophy: Lucy Gao (5/6)
Top U18 Trophy: April Zhong (5/6)
Top U2000: Lucy Gao, April Zhong (5/6)
Top U1600: Ingrid Wu, Duong Ngoc Minh Chau, Shabnam Abbarin, Adie Todd, Anna Gavrileva (all 4/6)
Top U1200: Chloe Huang (4/6)
Top U800: Victoria Lai, Katherine Leung, Angela Wang, Tiffany Chen (3/6)
Top Unrated: Liza Augustin (3.5/6)
And the cutest prize of them all: 6-year-old Carter Payne, the youngest participant, got a teddy bear.
The top boards were broadcast live on Lichess:
Toronto Chess Festival For Women & Girls • Round 1 • lichess.org
Photos: Michael Reyes