370 female players from Jamaica, St Lucia, Trinidad and Tobago, Grenada, St. Kitts and Nevis, Dominica, Antigua and Barbuda, Barbados, Guyana, Cayman Islands, Belize, British Virgin Islands, St Vincent and the Grenadines became participants of the Queen's Gambit Challenge – Caribbean Edition, a free chess crash course for English-speaking women and girls from 7 to 79 years old, who were interested in learning how to play chess. 1-hour lessons were held on Saturdays and Sundays over the span of 10 weeks.
The initiative featured a lot of outstanding chess organizers, trainers and arbiters, most of them are women. The list includes Chief Organizer Tris-Ann Richards (St. Lucia), Chair of the FIDE Commission for Womens' Chess Anastasia Sorokina (Australia), Tournament Arbiter Sabrina da San Vicente (Uruguay), Assistant Coordinator Sonja Johnson (Trinidad and Tobago).Lessons were conducted by Fide Instructor and International Arbiter Carlos Barrios (Costa Rica), WIM Carolina Muñoz Solís (Costa Rica), WIM Gabriella Johnson (Trinidad and Tobago), founder of "Universal Chess" academy Karina Bogantes (Costa Rica), FIDE Trainer and International Organizer WGM Martha Fierro (Ecuador), Fide Trainer and National Arbiter IM Jomo Pitterson (Jamaica), and WIM Deborah Richards-Porter (Jamaica).
The course aimed to provide a comprehensive learning experience to participants, covering various basic aspects of chess, from rules, checkmate patterns, tactics, and online tournament play. The participants were divided into groups based on their age and were assigned to experienced instructors who guided them throughout the course.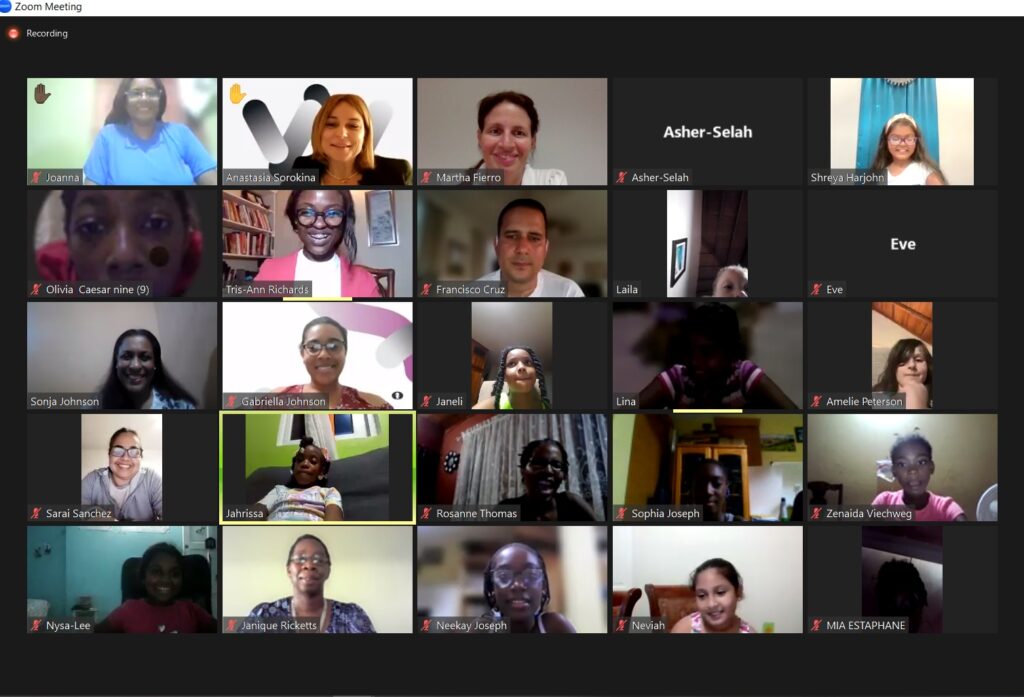 The Challenge concluded with a thrilling tournament that brought together over 100 participants of the course. Players put their newly acquired skills to the test and showcased their progress. It was an opportunity for friendly competition, camaraderie, and celebration of the hard work of all participants.
All the age categories played together in one big tournament, however the winners were defined in two categories – U14 and 14+.
14+ Category winners
1st place – Stacey Ann Robinson
2nd place – Alexis Walters
3rd place – Liudmila Domennova
U14 Category Winners
1st place – Zara Majid
2nd place – Elizabeth Khan
3rd place – Mia Sahely
The success of the Queen's Gambit Challenge was evident not only through the impressive number of participants but also by the notable improvement displayed by each participant. The event not only promoted chess as a mind-stimulating activity but also empowered female players from the English speaking Caribbean to explore and excel in a traditionally male-dominated sport.