International Chess Federation, Balkan Chess Federation and Albanian Chess Federation, in collaboration with Albanian Center for Openness and Dialogue, jointly held the International Women's Day Chess festival, a series of chess events to celebrate the International Women's Day and reinforce the commitment to women's equality.
The large-scale celebration took place from March 9-10, 2023 and included the "Balkan Chess Star" tournament, the women's workshop "Chess is a safe space for women", organized with contribution from ECU Women Commission, and a simul with female chess influencers.
The workshop "Chess is a safe space for women" featured Dana Reizniece-Ozola, WGM, FIDE Deputy Chair of Management Board; Antoaneta Stefanova, GM, women's world champion; Anastasia Sorokina, WIM, Chair of FIDE Commission for Women in Chess, international arbiter; Agnieszka Milewska, Director of the Women's Chess in England; Majlinda Pilinci, General Secretary of Albanian Chess federation, member of FIDE PDC Commission, international organizer.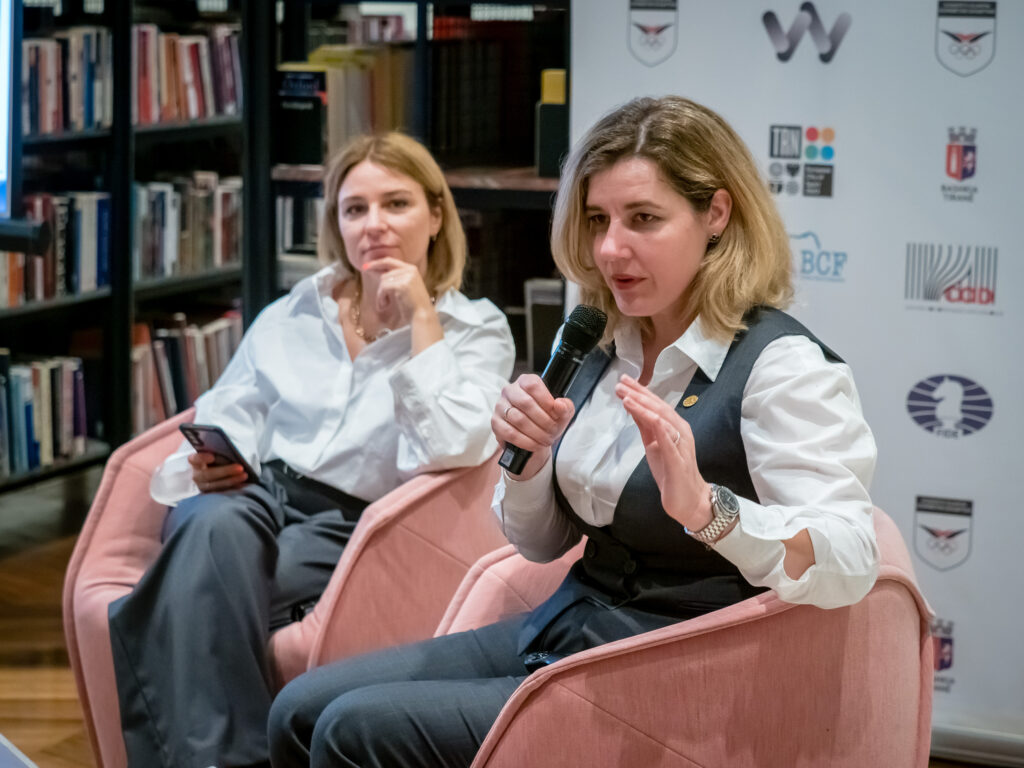 "No matter what position I was occupying in my career, chess was always a source of my inspiration. Starting from elementary things like thinking a few moves ahead, seeing the whole chessboard, not just one square, respecting your opponent, remembering you're not the only person in a game, appreciating the value of time, and making decisions. So in real life, whatever profession you will choose, even this very training and a simul that we are playing with you will help," said Dana Reizniece-Ozola to the participants of the event."
She was supported by Antoaneta Stefanova, who stressed the importance of decision-making for every person: "Each one of us should find a way to be useful for his country and society, and chess gives us a lot of preparation for life. I think that decision-making is one of the advantages of chess players. From a very early age, we get used to thinking, making decisions and then facing the consequences. Even though we were defeated so many times, we are not afraid to start a new game and make new hard decisions. Choose wisely. As we, chess players, say, it is always good to have a plan, even a poor one, than not to have a plan at all."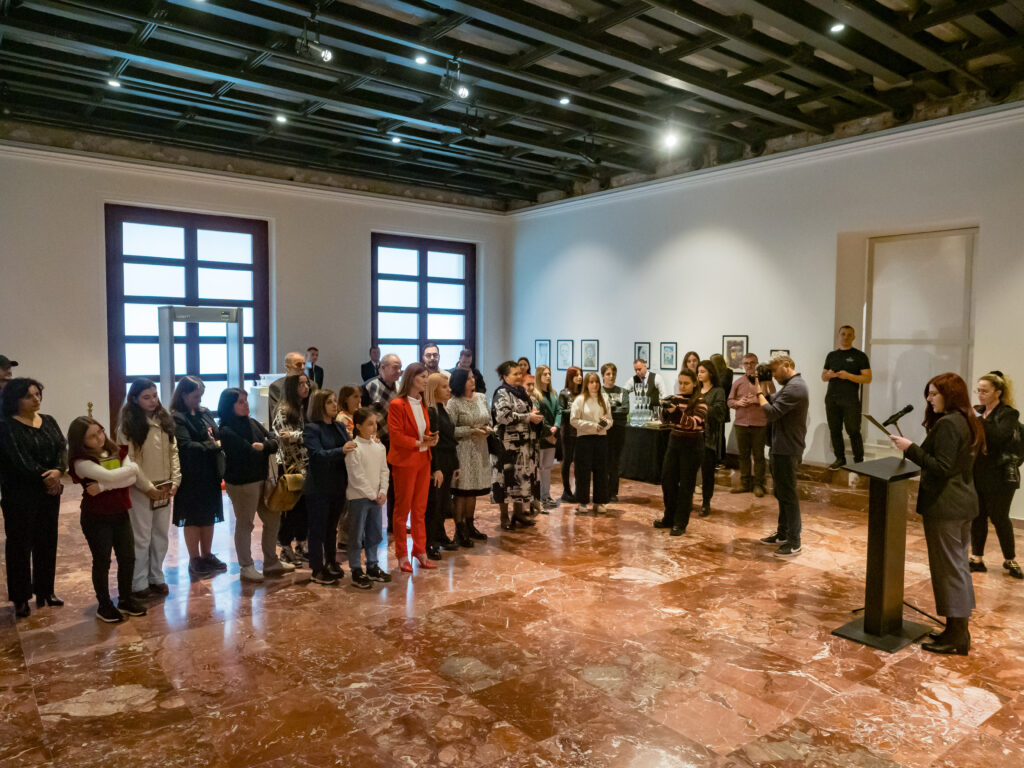 The "Balkan Chess Star" blitz tournament brought together eight girls born in 2007 and younger, representing all Balkan countries, who first competed in 2 round-robin qualification events on March 9. The Final was held today, March 10, between the winners of each event.
Ailin Ndreko from Albania and Jona Recica from Kosovo qualified for the final from their groups. Ailin Ndreko bested her opponent and won the tournament.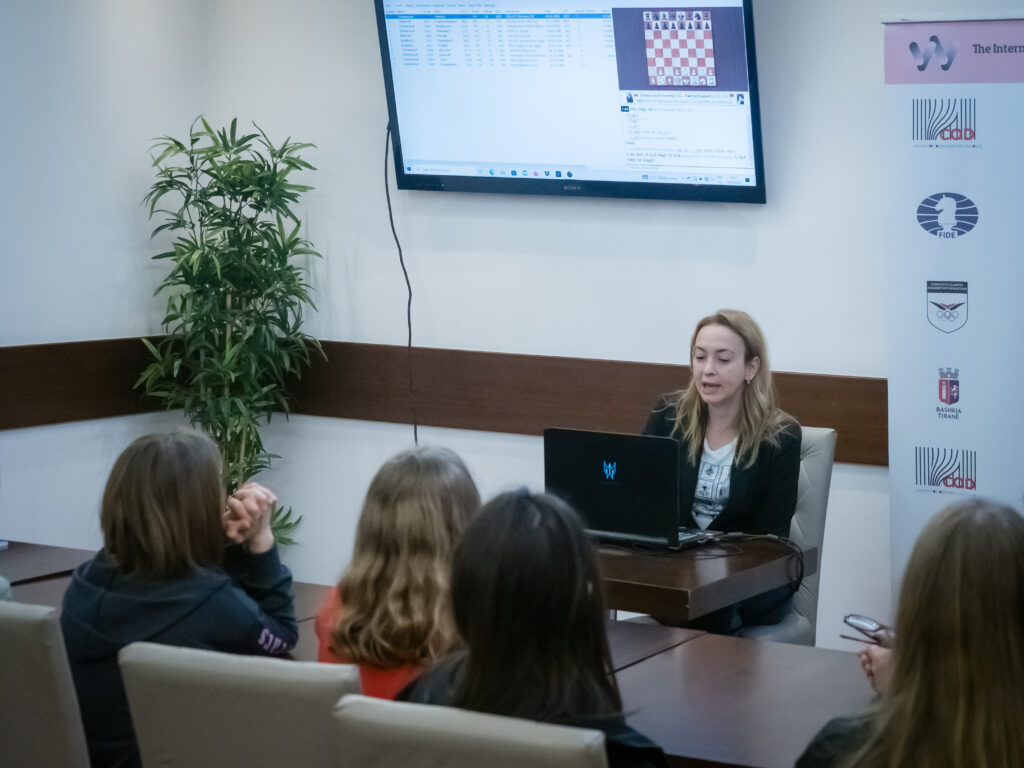 After the winner was determined, all the participants attended a masterclass by Antoaneta Stefanova, where they studied the Trompowsky Attack.
Being in Albania, the FIDE delegation visited the National Olympic Committee and met its president Mr Fidel Ylli. The parties discussed mutual support in chess development and future cooperation.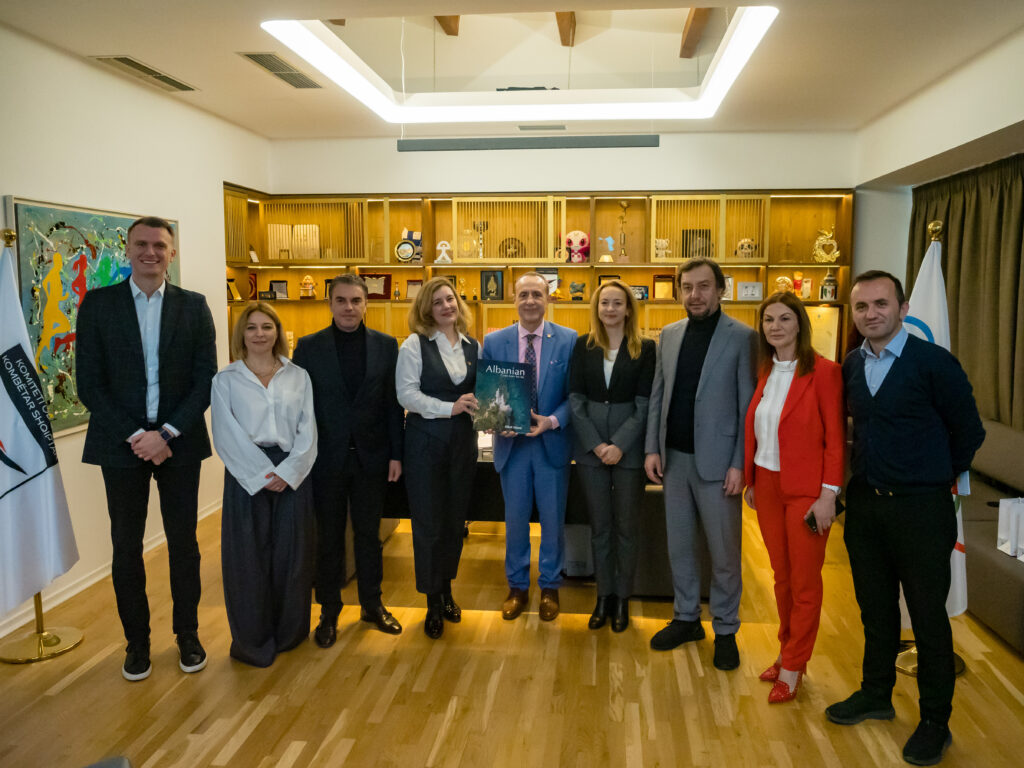 While the first part of the International Women's Day Chess festival was held offline, the event continues with online training. The arbiters seminar by IA Panagiotis Nikolopoulos (GRE), IA Mihail Prevenios (GRE), and IA Tshepiso Lopang (BOT) is held from March 10-12. It will award norms and titles of FIDE Arbiter and is free for national female arbiters nominated by their federations.
The Online FIDE Trainers' Seminar for female trainers organized by the FIDE TRG Commission in partnership with the FIDE WOM Commission, scheduled for March 17-19, will finalize the celebration of International Women's Day.