Travel subsidy for tickets to the Chess Olympiad 2022 in Chennai, India (up to 600 euro per person) and full board accommodation for six nights await the winners of the Queens' Online Chess Festival 2022, a series of continental women's online blitz tournaments. Four players, the winners of the finals in all categories, and one team of four will get a unique opportunity to see the biggest chess event, with over 2000 players from more than 200 countries participating, and to enjoy the scenic beauty of Chennai, a home for the world's second-longest beach and rock-cut architecture.
The lucky winners will also get a chance to see the Queens' Pavilion at the Chess Olympiad Expo and to attend the FIDE Year of the Woman in Chess Awards, promoting gender equality in chess. Other prizes of the event include training sessions with leading chess trainers.
The event, organized by the FIDE Commission for Women's Chess in cooperation with the FIDE Events Commission, and supported by the Asian Chess Federation, the African Chess Confederation, the European Chess Union, and the Confederation of Chess for Americas, starts on June 05, 2022, on Tornelo platform.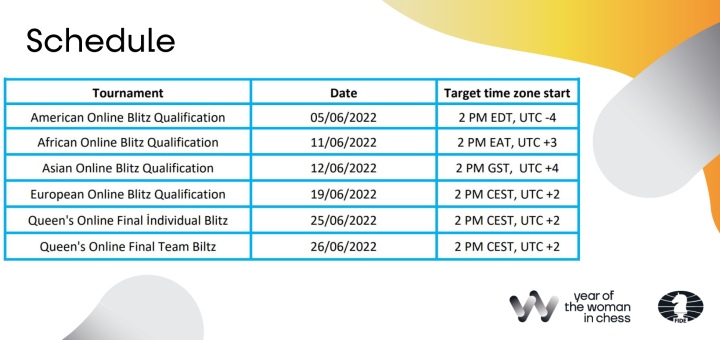 The competition will be held in four rating categories:
Category A: 2000 and higher
Category B: 1800-1999
Category C: 1600-1799
Category D: <1600, unrated
The first edition of the Queens' Festival, held in 2021, brought together over 460 participants from 82 countries. FIDE welcomes female chess players all over the world and invites them to join again, making this festival the biggest online women's chess event ever!
Regulations for the Queens' Online Chess Festival 2022 (pdf)
Presentation of the Queens' Online Chess Festival 2022 (pdf)
National Federations register for the tournaments by filling this form and sending it to the organizers' e-mail address: queensfestival@fide.com.
The deadline for registration:
Friday, May 27, 2022, for America;
Friday, June 03, 2022, for Africa and Asia;
Friday, June 09, 2022, for Europe.
Contact Information:
General Director: IM/WGM Eva Repkova
Tournament Director: IM/WGM Ilaha Kadimova
Chief Arbiter: IA Tania Karali
E-mail address: queensfestival@fide.com