The Queens' Online Chess Festival, a series of continental women's online blitz tournaments, is returning this summer. The third edition of the popular event, organized by the FIDE Commission for Women's Chess in cooperation with FIDE, will take place from July 02-16, 2023, on Tornelo online platform.
The festival gives a chance to participate for unrated U16 girls to participate in Unrated Princesses' tournaments. Organized for U16 (born on 1.1.2007 or later) female players with no FIDE rating the tournament welcomes girls from all countries and continents.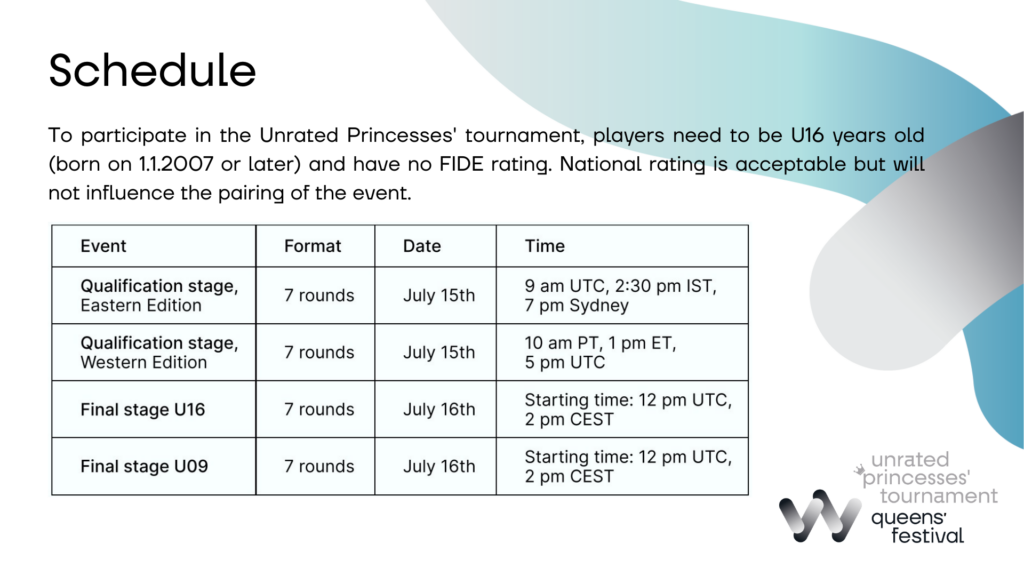 The winners of the Princesses' Tournament (both U9 and U16 ) will be invited to the 45th World Chess Olympiad 2024 in Budapest, Hungary. The ticket, full-board accommodation for 3 days and  invitations to the Opening Ceremony of the Chess Olympiad 2024 for the winner and one accompanying person will be covered.
The official Award ceremony for the Queens' Festival 2023 will take place during the Olympiad.
Regulations for Queens' Chess Festival (pdf)